5 facts you may not know about the Australian Open
The best tennis players across the globe gather at Melbourne Park in the second week of January every year for the Australian Open. The 2020 Australian Open will start from January 14 and will end on January 27 and one will see Nick Kyrgios, Maria Sharapova, Serena Williams, Roger Federer, Rafael Nadal and many other tennis stars compete against each other. Any type of tennis tournament be it Wimbeldon or French Open comes with a lot of interesting facts and other limitless information. Watching the tennis game and keeping in mind those facts goes along well and it rather makes it far more interesting once you start spectaculating and calculating the results and records respectively. The Australian Open is indeed the first grand slam of the year which is received with a lot of pomp and gaiety by the tennis aficionados so make sure that you book your tickets on time at Queen of tickets. The tennis tournament gives a great head start to the year with many unending tournaments to follow for the rest of the year.
If you are a crazy fan of tennis and you are unaware of the facts surrounding Australian Open, then you are doing a great deal of injustice to yourself. But not anymore because here in this article you will come across 5 interesting facts about the Australian Open that you are unaware of. Read 5 facts and other information regarding this grand slam to make yourself enlightened.
1. History of Australian Open

This mega tennis event dates back, way back to the late 20th century and was first introduced in 1905. Australian Open did not have its original name until 1969 and was formerly known as Australian Championship. Earlier the game was played across several cities in Australia but from 1987 onwards it was played in Melbourne. The Australian Open is indeed one such mega tennis event that has been played in different countries with 1906 and 1912 tournaments were played in New Zealand. The first match was played at Warehouseman's Cricket Ground. Due to its distant geographical location, Australian Open did not have foreign players until the year 1946 when several US players came to Australia by plane. Some of the recognised players who became popular from this event include Rod Laver, Margaret Smith and Roy Emerson.

2. Change from Grass Court to Hard Court

When the Australian Open commenced in the year 1905, the game was played on a grass ground. The trend continued and was in vogue till 1987. From 1988 onwards, the tournament made its first change by introducing hard courts instead of grass ones. Mats Wilander holds the record of being the only player who has won the championship title on both grass court as well as on hard court. At the present time, this mega tennis event is being played in two main courts namely Hisense Arena and Rod Laver Arena.

3. Timing and Venue

The dates of this mega grand slam saw some fluctuations with the dates in its early years. In the year 1919, the tournament took place in the month of January. However, in 1920 the game was organised in the middle of March. The tournament was conducted in August in 1923 and until 1977 there was no fixed timing for the game as it was scheduled across different months of the given year. But from 1977 onwards, the tennis game has been held in the middle of January every year. It is interesting to note that in 1977, two Australian Open events took place; one in January while the other one was in December of the same year. In the year 1986 due to some reasons Australian Open was not played.

As of now, the game has been played in 5 major cities of Australia and 2 cities in New Zealand since its inception in 1905. Most of the games have been organised in Melbourne but some tournaments were played in other cities like Hastings and Christchurch in New Zealand and Perth, Brisbane, Adelaide and Sydney. It was in the year 1972 that the governing tennis body of Australia decided to give it a permanent venue to this grand slam and from then the tournament has been permanently shifted to the Melbourne Park as the most preferred destination.


4. Australian Open Winners

Since its inception in the year 1905, the Australian Open has come a long way and it is regarded as a global forum for the display of skills and talent in tennis. This grand event has been held in Melbourne for the past 3 decades and has provided us with an ample number of winning legends one could have asked for. Some of the important men legends include Kenneth Robert Rosewall, Roy Stanley Emerson, Mats Wilander, Rod Laver, Andre Agassi, Rafael Nadar and Roger Federer. The important women legends include Margaret Smith, Nancy Wynne Bolton, Steffi Graf, Evonne Goolagong, Thelma Coyne and Martina Hingis.

5. Playing Conditions

The Australian Open which is held in January every year is actually the summer season in Australia. The day time temperature can rise up to 45 degree Celsius which is well above 100 degrees in Fahrenheit. The 2007 tournament is regarded as the hottest playing season which recorded unbelievable high temperature. Many players have to be put on some intravenous drips in order to cope up with the hot weather conditions in Melbourne. At the present time, this grand slam makes use of EHP or Extreme Heat Policy under which umpires can suspend any given tennis match when the temperature reaches very high. In order to cope up with the heat, many retractable roofs have been constructed and provide some relief to both players as well as the spectators. Be sure to checkout our guide to what to bring to avoid the scorching heat.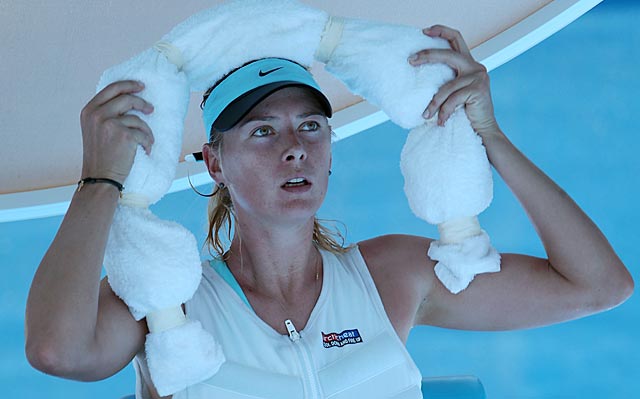 Other Trivia Associated with Australian Open
Ken Rosewall is the youngest winner to win the championship at the age of 18
Margaret Court is the leading winner of most female titles of Australian Open
Rafael Nadal won the longest ever tennis match in 2009 against Fernando Verdasco
Martina Higgins is the youngest woman to win the game at the age of 16
40,000 tennis balls are used every year in this tournament
Typically there are more than 300 ball boys and girls in attendance each year